The restorative yoga classes at the Dragonfly Yoga Studio in Fort Walton Beach offer a relaxing balance of your physical and mental being. Restorative yoga classes are offered every Thursday at Dragonfly Yoga Studio by the one and only Laura Tyree.
Benefits of Restorative Yoga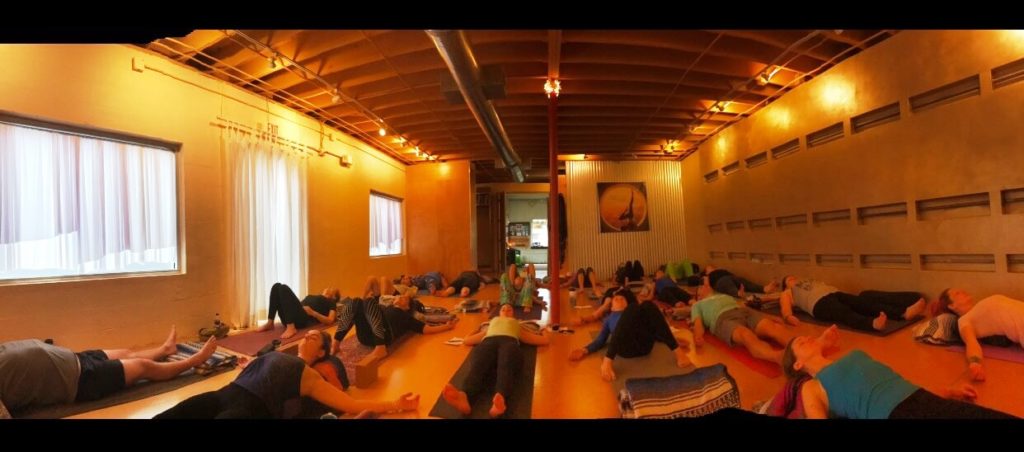 Restorative yoga classes at Dragonfly Yoga begin with a warm welcome into the serene and peaceful yoga studio. Students are eased into deep, passive stretches and prolonged poses to help you completely relax, restore and rejuvenate. The entire Restorative yoga class may only involve a few stretches that are held for several minutes at a time including using chair props, light twists and deep stretches.
The benefits of Restorative Yoga are plentiful. When you completely relax, it helps to boost your immune system and clear your mind. This is a therapeutic form of yoga that allows your muscles to completely relax by using props to support you such as a chair, blankets, blocks and/or straps. While in these passive stretches, you become aware of where you hold your tension and learn to consciously release it. When you release the tension, it helps to increase your flexibility, balance your nervous system and quiet your mind.
In restorative yoga, you learn to create space and let go. Let go of the stresses from life, let go of emotionally pain and learn to ease into a meditation practice. If you've ever been interested in mediation, our restorative yoga classes are the perfect way to start as you enjoy the quiet and stillness.
This is a recent reading by Laura Tyree at our last Restorative Yoga Class:
When you open up to life as it is - When you open yourself to the continually changing, impermanent, dynamic nature of your own being and of reality, you increase your capacity to love and care about other people and your capacity to not be afraid. You're able to keep your eyes open, your heart open and your mind open. And you notice when you get caught up in prejudice, bias and aggression. You develop an enthusiasm for no longer watering those negative seeds, from not until the day you die. And you begin to think of your life as offering endless opportunities to start to do things differently.
Total Body Relaxation Workshop this Sunday
If you are looking for even more Restorative Yoga opportunities, don't miss our Total Body Relaxation Yoga Workshop this Sunday with John and Amy Jinks. Students will enjoy a relaxing, guided body awareness meditation with lullabies and a healing gong bath with special guest Stacey Vann!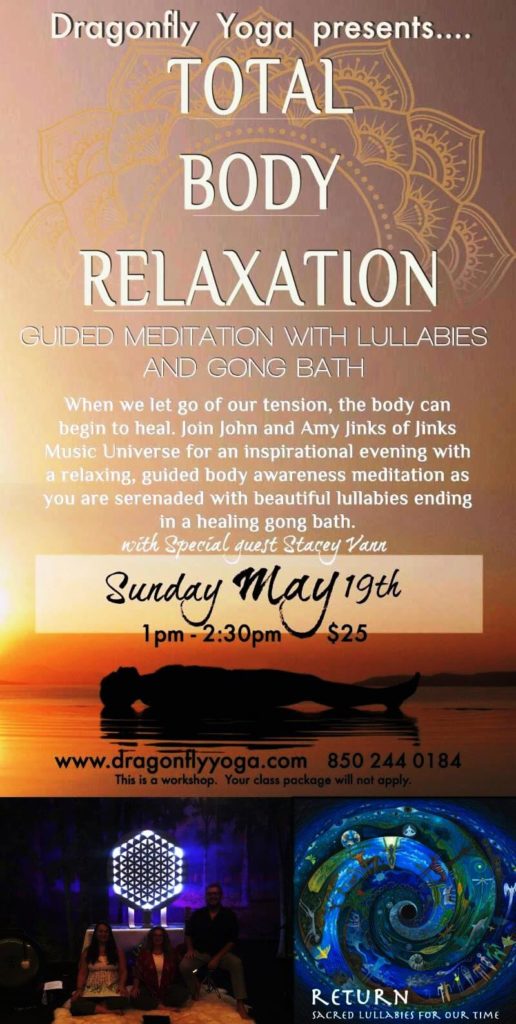 "Amazing restorative yoga class with Laura Tyree this morning at Dragonfly Yoga Studio! I am in love with traction we learned today" - Melissa
We invite you to join us at the Dragonfly Yoga Studio in downtown Fort Walton Beach for our Thursday Restorative Yoga Classes or for any of our other yoga classes. We are honored to offer yoga classes for all fitness levels and flexible yoga class schedules throughout the day. Have a question? Please contact us at the Dragonfly Yoga Studio and let us know how we can help. Namaste!