Did you know that Laura Tyree offers Myofascial release (MFR, self-myofascial release) massage therapy at the Dragonfly Yoga Studio in downtown Fort Walton Beach? Myofascial release massage therapy is an alternative medicine therapy that releases muscular shortness and tightness. Laura Tyree's one-on-one therapy provides hands-on, personalized treatment that helped many with headaches, back pain and more.
The Difference with MyoFascial Release Massage Therapy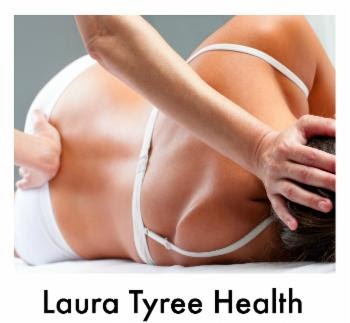 Unlike a deep tissue massage, Myofascial release massage therapy focuses on the fascia (connective tissue that supports 80% of our body) and has been proven to alleviate chronic pain. Connective tissues called fascia surround the muscles, bones, nerves, and organs of the body. Your myofascial tissues surround and support muscles throughout your body.
The John F. Barnes PT LMT NCTMB Method of Myo-fascial Release is a gentle and effective treatment to re-balance the internal fascial matrix of your body. Accidents, stress, and repetitive action can thicken and 'lock down' fascia as a protective reaction. With this method, highly refined, gentle traction techniques and compression are applied to promote natural releases to the fascia. When the fascia is approached in a gentle way it surrenders adhesions without pain or damage, or incurring post inflammation and re-thickening.
"You can have lasting relief. I never would have believed I could find anything that could permanently restructure my back and hip. It was so impactful, I pursued the trainings to certify, and use it today with all of my clients." Laura Tyree
Laura Tyree was trained by John T Barnes PT certified therapist and practices massage therapy here in Fort Walton Beach Fl. Laura Tyree uses her expertise to gently apply quiet pressure and stretching to these myofascial connective tissues to eliminate pain and restore range of motion. Myo-fascial pain from stress, trauma, injury, inflammation, or surgery recovery is reduced and permanently eliminated.
The John Barnes method of Myo-Fascial Release is a low-load, sustained traction therapy that gently releases restrictions of the fascial body. This method erases years of restrictions, returning the body to its natural fluid matrix. Through his 50 years of experience and creative insight, he has developed an innovative and highly effective whole body approach for the evaluation and treatment of pain and dysfunction.
Myo-Fascial Release has many pain-relieving benefits including:
- chronic pain and injury-related problems
- joint and digestive disorders
- migraines
- sinus-related difficulties
- whiplash
- pelvic pain
- disc problems
- dysfunction
- neurological dysfunction
- surgery recovery
Contact Laura Tyree at the Dragonfly Yoga Studio in downtown Fort Walton Beach for more information on the amazing Myo-Fascial Release (MFR) Massage Therapy.