Welcome to May from the Dragonfly Yoga Studio in downtown Fort Walton Beach. The new month brings new yoga class specials and workshops for new and existing yoga students. April showers bring May flowers and our yoga instructors are blossoming with love and inspiration for their yoga classes.
"Let us live simply outside, and be supremely happy within. Let us learn to build inner mansions of wisdom in the unfading Garden of peace that blooms with the million-hued blossoms of beautiful soul qualities." ~Paramahansa Yogananda
For the month of May at Dragonfly Yoga, new yoga students can enjoy a new student yoga class package of 2 weeks of unlimited yoga classes for $25. Dragonfly Yoga offers yoga classes for all fitness levels including active to gentle restorative yoga. We offer a variety of different yoga classes throughout the day and you can easily reserve your class online.
Current Dragonfly Yoga students can enjoy their choice of two yoga class packages. Current students can purchase a 10-class yoga package for $85 or one month of unlimited yoga classes for $75 (save $50). Don't forget that we also offer Military Discounts for our yoga classes for all area military bases including Eglin Air Force Base and Hurlburt.
Click here to purchase a Dragonfly Yoga Class Package.
May Yoga Workshop | Total Body Relaxation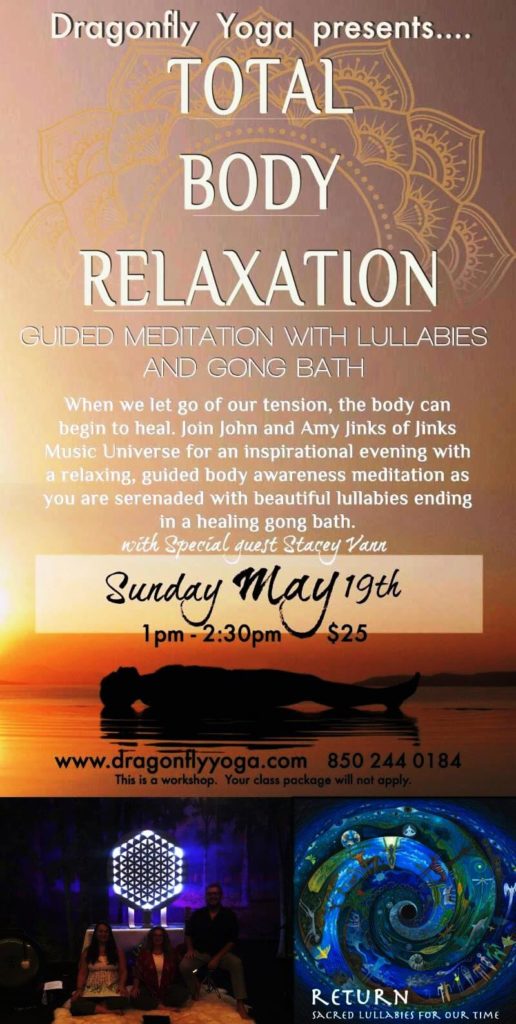 We've been waiting for months for this yoga workshop and it's almost here. Mark your calendars for Sunday, May 19th as you immerse in a guided mediation with lullabies and Gong Bath. We are so honored to welcome John and Amy Jinks and Stacey Vann for an unforgettable Total Body Relaxation yoga workshop at Dragonfly Yoga. Sign up today!
Inspirational thought of the Month: "In our yoga classes, we are investigating the many dimensions of self care. Mine rests in witnessing beauty, in every way. I hope you find some today ❤️"
- Laura Tyree