Spring is a time of renewal as a fresh air embraces you. It's also the perfect time to 'spring' into Dragonfly Yoga Studio in Fort Walton Beach. There's a certain mystical feeling that greets you up entering the doors of our quaint yoga studio in downtown Fort Walton Beach. Warm smiles from our teachers and students welcome you as you enter our peaceful sanctuary. Begin the new season with a new beginning at Dragonfly Yoga Studio. We invite you to Revitalize, Stabilize and Energize.
Dragonfly Yoga Class Specials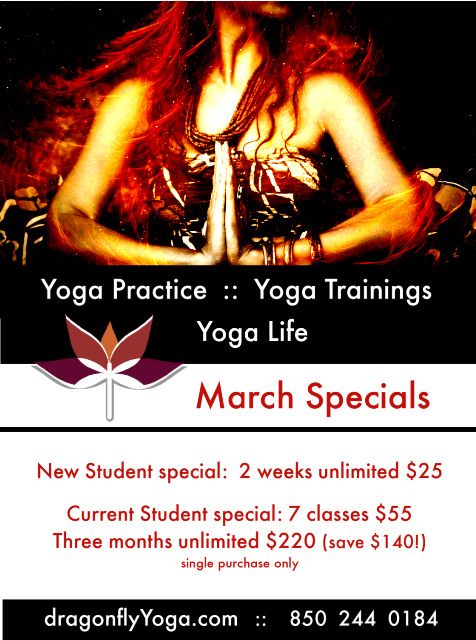 We welcome you to join us for daily yoga classes for all ages and fitness levels at Dragonfly Yoga. Our yoga teachers are well-versed in not only bringing their souls to the mat, but being mindful that each student is different. We encourage all students to go at their own pace no matter where they are in their practice.
'Spring' into Dragonfly Yoga for yoga classes and take advantage of our March specials. All new yoga students can enjoy 2 weeks of unlimited yoga classes for $25. Current yoga students to Dragonfly Yoga can purchase 7 classes for $55 or three months unlimited for $220 (save $140).
We're also continuing our amazing Chakra Yoga Series with Jean Williams on March 7th from 1 - 2 pm. Join Jean Williams and explore the fascinating world of the energy body through the bliss of your yoga practice. Calming to the body and stimulating to the mind!
RYT 200 Hr Yoga Teacher Training
In addition to daily yoga classes, Dragonfly Yoga and Laura Tyree offer an unparalleled yoga teacher training program. Dragonfly Yoga Studio offers an extensive, comprehensive, and enriching Yoga training program tailored to both aspiring yoga teachers and serious students of all levels. Whether you seek to deepen your individual yoga practice or learn the art of teaching with integrity and grace, this RYT 200 teacher training program and its teachers provide the sacred space, wisdom, and support necessary for you to blossom and grow along your own unique Yogic path. Check out our current RYT 200 Hour Yoga Teacher Training Program
Wherever you are in this beautiful beginning of the spring season, remember that every day is different, so embrace where you are today.