Happy New Year from Dragonfly Yoga Studio! Laura Tyree began the New Year with a New Year, New You Restorative Class at her downtown Fort Walton Beach yoga studio. The yoga class was about celebrating and embracing who you really are. Laura discussed the process towards a New You: Acceptance, Action, Patience, Transformation.
Transformation begins with Acceptance. In yoga, we call this Ishvara Pranidhana. That means to accept what is happening right now. Transformation requires full acceptance of the thing to be changed. A road to freedom for the yogi is found in the Niyama teachings.
Acceptance is what is right now. This isn't condoning a terrible event or situation; instead, it is allowing you to fully acknowledge it, fully accepting it, in order to fully let it go and move on.
List on a piece of paper the things from the past that you feel are holding you up and with each one, affirm: "I full accept this. I fully let go and I move forward into a life of spaciousness, peace and freedom." If you choose, you can tear, burn or throw away this paper.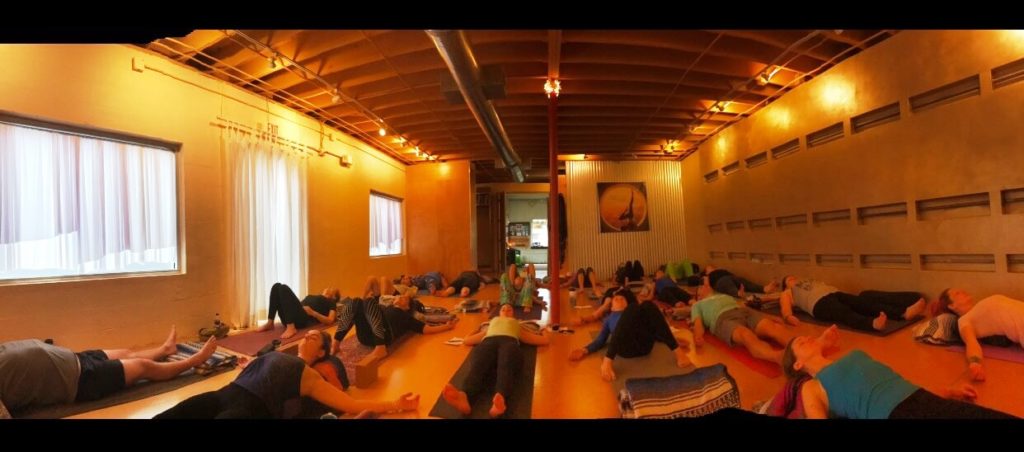 Dragonfly Yoga Studies | Acceptance, Action, Patience, Transformation
After you have followed the acceptance steps above, it's time to move on to Action. Action occurs not by making decisions that suddenly redirect everything. It's the small decisions that turn us to the place we will find ourselves to be. It's like going on a journey through the woods with a compass. If you have the exact coordinates, that's all well and good, but usually there are things in the way. It could be easier to go a little bit east, to work around a big river or easier to head north, because there's clearly a path to use. There are small turns along the journey that not only make it possible, but also make it interesting.
But that means the new step is vital. Patience. You could consider patience like creating space around whatever you're headed towards. Space and time to observe the path and make the appropriate adjustments.
Space creates room for Transformation. And transformation is what we are all seeking, whether we are on a spiritual path consciously or not. It's good to remember the transformation of an acorn to an oak tree takes space, nourishment and most importantly, time.
So instead of making giant leaps....what if we make small turns? Small decisions that lead to big changes over time for us personally. What if we make time and patience our allies as we go along and find ways to enjoy the journey?
Namaste and Happy, Spacious 2019!
About Dragonfly Yoga Studio and Laura Tyree
Dragonfly Yoga Studio in downtown Fort Walton Beach offers daily yoga classes for all fitness levels. Dragonfly Yoga Studio's instructors bring their souls to the mat to help you Stabilize, Energize and Revitalize. We offer a flexible schedule of daily yoga classes in the morning and afternoon/evening, weekdays and weekends. Dragonfly Yoga Studio proudly serves the Destin, Navarre, Crestview and Niceville areas as well as local military bases.
Our yoga classes in Fort Walton Beach are designed for all fitness levels, including yoga for beginners, restorative yoga and active / flow classes.
Laura Tyree opened the Dragonfly Yoga Studio over 17 years ago. Dragonfly Yoga has created a thriving yoga community complete with a variety of experienced yoga teachers and yoga classes for all fitness levels in a revitalizing environment.
Contact us today and let us know how we can help you with a great 2019!